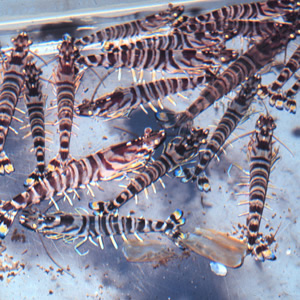 Almost 95 percent of shrimp are raised on shrimp farms. That's because the shrimp supply in oceanic environments has been greatly reduced and is not able to meet the growing demand for shrimp. Shrimp farming has become a global industry. Unfortunately, shrimp farms can be susceptible to a variety of diseases, unsafe harvesting practices, and environmental problems. Because of that, there is a huge need for shrimp farm water treatment products that create healthy environments for the shrimp, and ultimately, for humans. Aquatic BioScience, LLC, is a leader in the push for safe, effective, and natural treatments.
Our Company
Since 1989, Aquatic BioScience has been producing solutions for water problems. Our products have been applied at locations throughout the world–particularly in North America, South America, and Asia. Fifty percent of our products go outside the United States. And for good reason. Our products, such as shrimp farm probiotics, have been proven to have more active ingredients than any other similar products on the market. Over the years, we've continued to be committed to the development of products that encourage healthy water, healthy environments, and healthy people.
Our Products
We know that what goes into our food, such as shrimp, will affect the health of human populations too. Our shrimp farm water treatment products are designed to create a healthy probiotic environment for shrimp, liquefy dead phytoplankton, control pathogens, eliminate toxic gases, and speed up the natural degradation of waste. Our shrimp farm probiotic products work in both freshwater and saltwater and promote an optimal ecosystem for shrimp to thrive.
Because shrimp is a favorite delicacy throughout the world, Aquatic BioScience applies the best of science to shrimp farm water treatment. With our help, your shrimp farm can be more healthy and more successful. We can ship to locations worldwide. You can also purchase our products through one of our regional distributors. Call today!