Formulated specifically for corrugator plants and paper mills.
Liquefies and devours highly-concentrated starch compounds.
Natural and environmentally friendly.
ABS-CP/PM™ product is a blend of enzymes and select micronutrients formulated specifically for use in corrugator plants and paper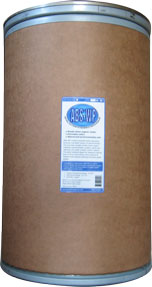 mills to liquefy and eliminate the concentrated starch compounds commonly found in those environments. It's natural and environmentally friendly. ABS-CP/PM™ first breaks down the bonds of the long chain starches and then devours the water-soluble sugars that are formed by the breakdown process.
Direction for use and application rate:
A sample application maintenance program is 2 ppm of ABS-CP/PM™ per day, applied as part of a normal maintenance regimen for clarifiers, oxidation lagoons, collection systems, sludge pits, etc. (2 ppm is determined by the total weight of wastewater in the system). The initial application of ABS-CP/PM™ will normally be 8 times the recommended* maintenance amount.
*An appropriate application rate can be calculated and recommended by an Aquatic BioScience technical representative.
Application rates will vary based on retention times, BOD ranges, water temperatures, pH, sludge buildup, and lagoon/pond depth. Rates are based upon:
Storage:
For optimal shelf life, store product in cool space, under 100°F(38°C). Do not store in direct sunlight.
Keep container tightly closed when not in use.
Keep out of reach of children.
Packaging:
Buckets and fiber board drums depending on quantity ordered.