Makes ponds, lakes and lagoons a beautiful blue.
Won't stain birds or fish.
Completely safe for humans and wildlife.
ABS-BLUIT™ adds natural beauty to ponds, lakes, lagoons, or any water feature by dyeing them a beautiful blue color. ABS-BLUIT inhibits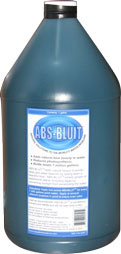 growth of waterborne plants, including algae, by preventing sunlight from penetrating the water. When applied at the recommended rate, it will not stain birds or fish and is harmless to humans and wildlife.
Direction for use and application rate:
Apply one ounce ABS-BLUIT™ for every 7,800 gallons pond water. Apply at several different locations in the pond to ensure even color.
1 gallon of ABS-BLUIT™ treats 1 million gallons of water.
Storage:
Store in a cool, dry area.
Do not store in direct sunlight.
Do not subject to freezing temperatures.
Caution: Avoid contact with skin. Wash thoroughly with water in case of eye contact. If irritation persists, contact a physician. Do not swallow.
Do not reuse container.
Keep out of children's reach.
Keep container tightly closed when not in use.
Packaging:
Gallon bottles, 4 to a case. Case quantities only.